It's definitely fun having an above ground pool in your backyard. Pools are a place for cooling off, hanging out with friends, and enjoying your family during the summertime. How can you make your pool more exciting? By decorating the landscape that surrounds it! There are numerous affordable options for personalizing your pool space.
So, what are some above ground pool landscaping ideas on a budget? You can try finding items at thrift stores, garage sales, or repurposing items.
In this blog, we will explore some savvy ideas to help you take your above ground pool from zero to hero without breaking the bank. So, let's "dive in" and explore how you can decorate your above ground pool on a budget!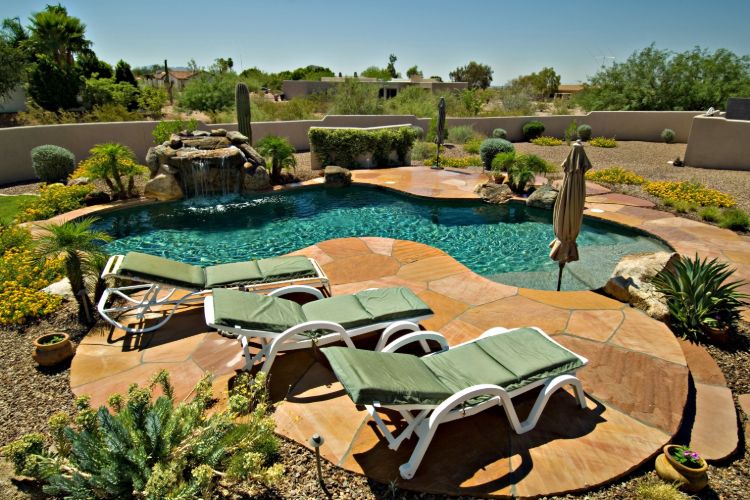 Plan and Budget
It's important to make a plan that includes a budget before you start shopping for pool decor. Here are three key steps to help you effectively plan and budget for your pool decorations.
First, establish your needs and set clear boundaries. You want to take a close look at your pool area and decide what aspects you want to hone in on. Are you looking to enhance the lighting, seating, or overall ambiance? By laying out your priorities, you can allocate your budget accordingly and avoid unnecessary expenses. Setting specific goals will also help you stay focused during the decoration process.
Second, research and compare prices. Take the time to explore different options for pool decorations and compare prices from various suppliers or retailers. Look for budget-friendly alternatives such as online marketplaces, discount stores, or even second-hand items. Keep an eye out for seasonal sales or clearance events where you can find great deals on pool accessories, lighting, seating, and other decorative elements. By being patient and thorough in your research, you can find affordable options without compromising on quality.
Last, create a detailed budget and stick to it. Once you have determined your goals and researched the prices, it's time to create a comprehensive budget for your above ground pool decorations. Make a list of all the items you need and estimate their costs. Be sure to account for additional expenses, such as installation or maintenance. It's crucial to be realistic about your budget and avoid overspending. Consider adjusting your goals or finding cost-effective alternatives if certain items exceed your budget. By adhering to your budget, you can successfully decorate your pool area without any financial stress.
Planning and budgeting for cheap above ground pool decorations require careful consideration and research. Assess your needs, set clear goals, and prioritize your expenses accordingly. Research different suppliers and compare prices to find the most affordable options. Create a detailed budget and be disciplined in sticking to it. By following these steps, you can achieve a beautifully decorated pool area while staying within your financial means.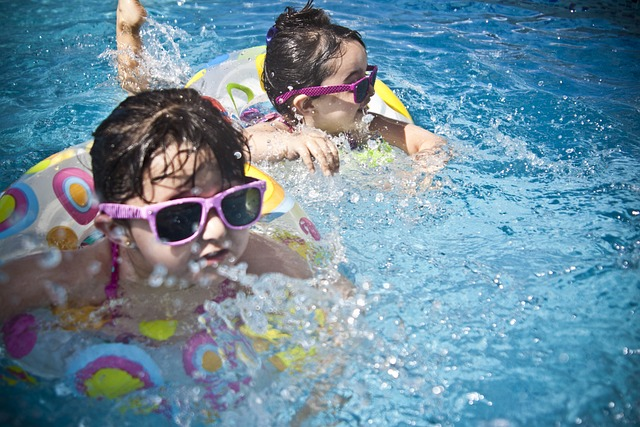 Clean and Maintain the Exterior of the Pool
Is your pool area on the dirty side? Now is a great time to get it cleaned up before you start decorating. Having a clean slate to work from allows you to determine what types of decorations you want. Plus, it's difficult to add decor to a disorganized pool space. Make sure to clear away twigs, branches, algae, and trash. It's also a good idea to repair any broken pool components like handrails, steps, diving boards, and decking. Also, ensure to routinely maintain the pool's chemical balance and keep the water crystal clear.
Install Lighting Around Your Above Ground Pool
Adding lighting to your above ground pool area can create a magical atmosphere and extend your swimming time into the evening hours. Look for affordable options such as string lights, solar-powered lanterns, or LED lights that can be submerged in the water. These lighting options are cost-effective, energy-efficient, and easy to install. String lights can be draped along the pool's perimeter or hung from nearby trees or fences. Solar-powered lanterns can be strategically placed around the pool area to provide a soft and warm glow. Submerged LED lights can be placed in the pool, creating a mesmerizing effect. By incorporating lighting into your pool decor, you can enhance the ambiance and enjoy the pool even after the sun goes down.
Create Seating and Lounge Areas
Creating comfortable seating and lounge areas around your pool transforms it into a relaxing and inviting space. Search for inexpensive outdoor furniture options such as folding chairs, lounge chairs, or bean bags. You can also repurpose old wooden pallets and cushions to create unique and budget-friendly seating arrangements. Place colorful outdoor pillows and cushions on the seating to add a pop of color and make the area more comfortable. If you have a limited budget, consider renting or borrowing seating options for special occasions. Adding seating and lounge areas provides a space for relaxation and socializing, making your pool area more enjoyable for everyone.
You could also build a wooden deck to go around the pool. This would not only allow easier access but an outdoor space for the parents to hang out on that's visually appealing.
Plants and Greenery Liven Up Any Pool
Adding plants and greenery around your above ground pool can bring a refreshing and natural touch to the space. Look for affordable potted plants, such as palm trees, ferns, or colorful flowers, to place strategically around the pool area.
You can also create a vertical garden by repurposing old wooden pallets and attaching small pots. Hang these pallets on the fence or place them against a wall to add a lush backdrop. Another budget-friendly option is to use artificial plants and vines that require minimal maintenance and can withstand the pool's humidity. Adding plants and greenery enhances the visual appeal of your pool area and provides shade and privacy.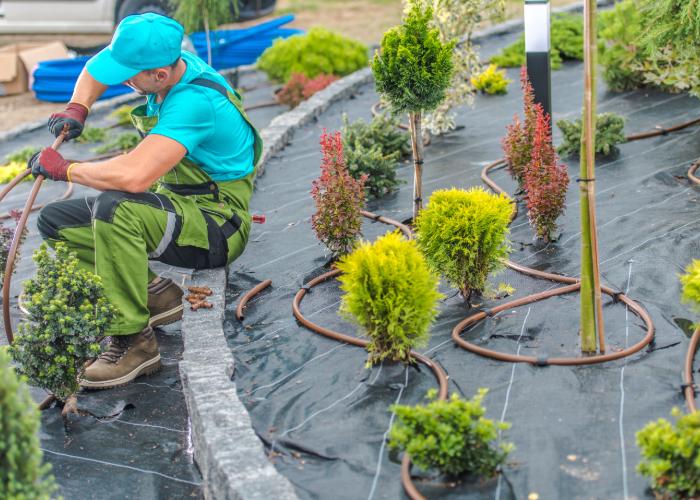 Pool Accessories and Decorations
To add personality and style to your above ground pool, consider incorporating pool accessories and decorations. Look for inexpensive pool floats, water toys, and inflatable loungers that are both fun and budget-friendly.
You can also hang a colorful poolside sign, add a pool thermometer, or attach a solar-powered fountain to create a visually appealing focal point. If you have a creative side, consider making DIY pool decorations using waterproof materials such as beach balls, pool noodles, or recycled materials. These personalized touches will make your pool area unique and inviting without breaking the bank.
Above Ground Pool Landscaping Ideas On a Budget: Unique Hardscapes
When it comes to decorating the pool area with unique hardscapes on a budget, there are several creative options to consider.
Use Repurposed Materials
One budget-friendly idea is to use recycled or repurposed materials. For instance, old wooden pallets can be transformed into a stylish and functional poolside bar or seating area. By sanding and staining the pallets, you can give them a fresh and polished look. Another idea is to create a pathway using stepping stones made from recycled materials like broken tiles or concrete pieces. These unique hardscapes not only add visual interest but also showcase your eco-friendly approach to decorating.
You can also reuse or repurpose stones and cement blocks in your yard to create a fire pit near the pool area. Or build a wood pool fence around the structure with upcycled lumber.
Use Cost Effective Materials
Additionally, incorporating gravel or pebble accents can be a cost-effective way to enhance the pool area. By creating a border of pea gravel or pebbles around the pool, you can define the space and add a touch of natural beauty. This low-maintenance option is easy to install and requires minimal upkeep. Moreover, incorporating potted plants or flowers within the gravel or pebble border can add color and texture, creating a harmonious blend of hardscapes and softscapes. These budget-friendly hardscape ideas allow you to personalize your pool area while keeping costs down and making a unique statement.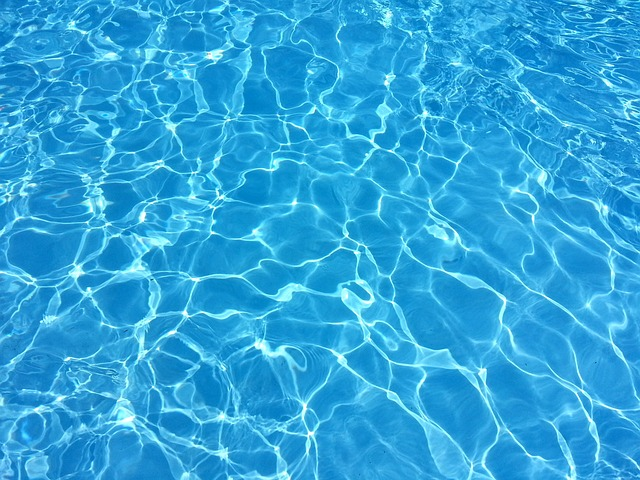 That's a Wrap
Decorating your above ground pool on a budget is entirely possible with some creativity and planning. By following the tips mentioned above, you can transform your pool area into a stunning oasis that doesn't drain your wallet. Remember to plan and budget, clean and maintain your pool, and incorporate lighting, seating, plants, and affordable decorations. With a little effort and imagination, you can create a beautiful and inviting space for you, your family, and your friends to enjoy all summer long. So, go ahead, get started, and make your above ground pool the highlight of your backyard!
Who is Denver Landscaping and Design?
For over ten years, Denver Landscaping and Design has created beautiful scenes on residential and commercial exteriors. There's not much the team can't do. We're a fully licensed and insured business that offers the lowest rates in the local area. Please contact us at (720) 605-0578 for a FREE quote.