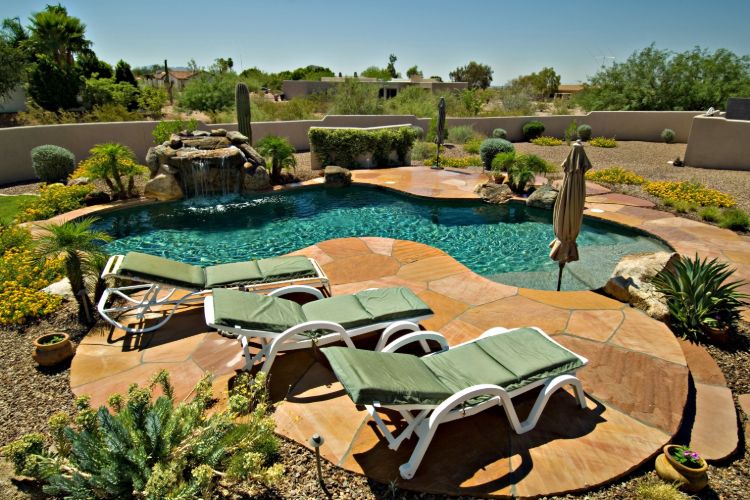 Living in a hot, dry climate? Want to save water and still have a lush, beautiful backyard with a pool? Choosing the right drought tolerant plants and landscape design can help you have it all.
How can you achieve drought tolerant pool landscaping? Choose native plants adapted to arid conditions like succulents. Design the landscape with hardscaping elements that limit turf areas and incorporate water-wise practices like mulching and efficient irrigation.
Here are 8 terrific ideas to create an oasis around your pool without draining the water table.
1. Succulents
Succulents are ideal for poolside planting. Their thick, fleshy leaves and stems retain moisture, so they need less frequent watering. Succulents come in a huge range of shapes, sizes, and colors to provide year-round interest. Try agaves, aloes, echeverias, sedums, and sempervivums. Mix different textures and forms for visual appeal. Most succulents thrive in full sun and require well-drained soil. Group in beds or tuck into rocky crevices. Don't forget the sunscreen if their spines are poke-y!
2. Gravel and Rock Gardens
For a clean, contemporary look, opt for a pool surrounded by gravel, crushed stone, or boulders. This type of xeriscape design needs no irrigation, provides excellent drainage, and stays cool underfoot. Lay down a weed barrier before adding gravel to keep sprouts at bay. Choose naturally colored pea gravel or crushed granite in warm tones. Or go bold with Mexican beach pebbles or vivid red lava rock. Large boulders add sculptural elements—ideal for creating private nooks or perching potted succulents.
3. Grasses
Ornamental grasses add texture and graceful movement with narrow blades and feathery plumes. Many varieties are quite drought-tolerant once established. Blue fescue, Mexican feather grass, and purple fountain grass are some top picks. Use swaths of grasses as living pools of color and motion. Try scattering low, mounding varieties near steps and edges. Taller, upright grasses can screen unsightly views. Just beware, grasses with aggressive roots that spread. Leave those to enjoy at the park, not your pool!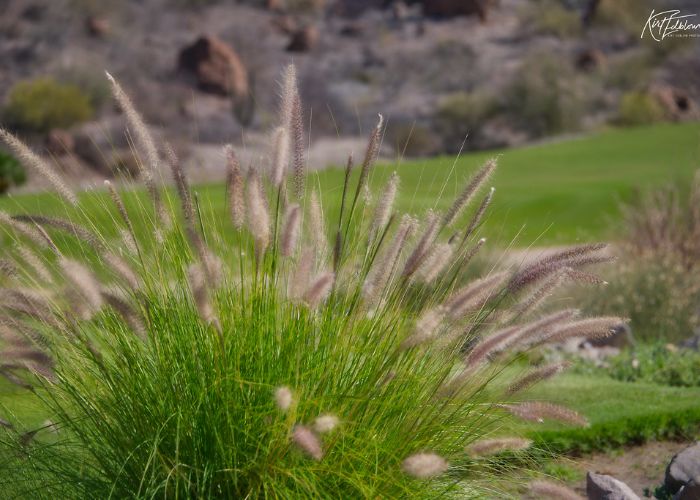 4. Mulch
A thick layer of mulch around pool plantings helps reduce evaporation, cool soil, and control weeds. Organic mulches like shredded bark need annual renewal but provide nutrients as they break down. Inorganic mulches like lava rock or river stones last for years. Match the mulch to the plantings. Use dark, rough-textured mulch with succulents or gravel mulch for a contemporary look. Just don't volcano mulch right up the trunks of trees and shrubs. Leave breathing room so critters and fungi move out.
5. Native Plants
Choose pool plants that thrive in arid conditions. Native and adapted desert plants will use less water once established. Southwestern natives like agave, prickly pear cactus, yucca, Texas sage, and red bird of paradise give pools a natural yet lively look. Check with local garden centers or university extension services for suitable regional plants. Group plants with similar water needs into dedicated beds, terraces, or planters. Then you can irrigate just those key areas without drenching everything.
6. Pool Pots
Containers are terrific for poolside plantings—you can control the soil and drainage to keep plants happy with less water. Glazed ceramic and colored concrete pots add bold splashes of color. Terra-cotta and wood planters have a traditional vibe. For modern flair, try sleek metal planters in silver, copper, or zinc. Fill pots with cacti, succulents, citrus trees, petite palms, or bamboo. Include a water reservoir and/or self-watering system, so roots stay evenly moist. Then you can relax poolside instead of hauling a watering can all summer!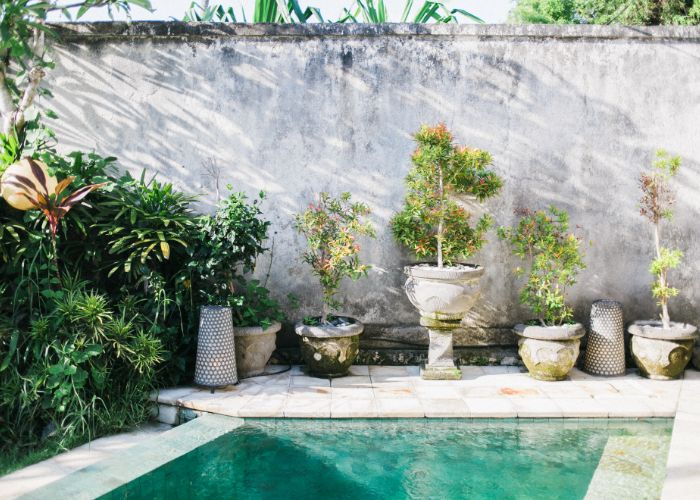 7. Want Drought Tolerant Pool Landscaping? Limit Turf
The largest water hog in most yards is turfgrass. Limit thirsty lawn areas around your pool for lower maintenance and water bills. Focus lawn in key areas for play, lounging, or entertaining and use alternative plantings elsewhere. If you must have a lawn, select a drought-resistant warm-season grass like Bermuda. When installing new turf, choose drought-tolerant sod, use extra preparation, amend the soil, and water deeply but infrequently to train roots to grow downwards. Your wallet will thank you!
8. Hardscaping
Creative hardscapes lend themselves beautifully to water-wise pool environments. Use patterns of stone, brick, or pavers to break up plantings. Add stair-stepping terraces planted with succulents or an arched bubbling water wall as a focal point. Consider hardscape elements like pebble-inlaid concrete, rustic stone walls, gravel pathways, and tile mosaic murals. Just be sure hardscaping allows adequate drainage to avoid boggy spots. With so many attractive and innovative options, you can surround your pool with daily delights that thrive on a sip.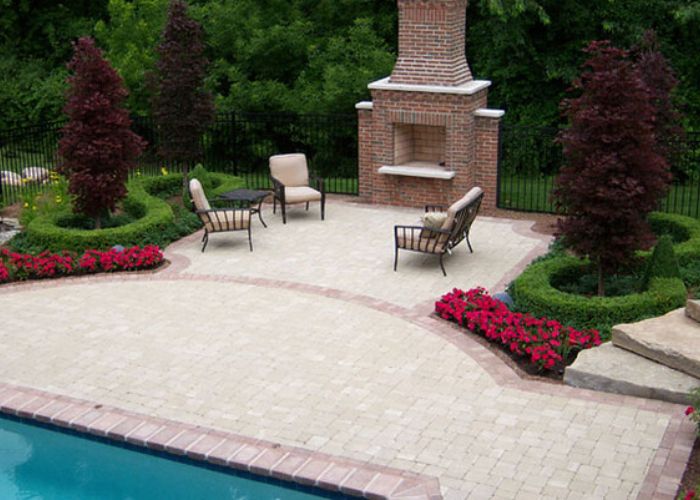 Creating a Poolside Paradise That's Easy on Water is Doable
Incorporating a few of these creative ideas can keep your pool area lush and inviting all season long without draining water resources. And you'll save time and money on landscape maintenance. Just be sure to abide by any local regulations and water restrictions. With smart planning and plant selections, you can relax by the pool and feel good about your beautiful, drought-tolerant oasis. The cacti and succulents promise not to use up all the lemonade while you take a quick dip!
About Denver Landscaping and Design
Denver Landscaping and Design has over ten years of dedicated experience. From residential to commercial landscape ventures, the company has done them all. Please contact the team by calling (720) 605-0578 for more information and to schedule an appointment.
FAQs
What is best to put around an inground pool?
Concrete decking is a classic and durable choice for surrounding an in-ground pool. Natural stone like slate or flagstone also works beautifully and provides a non-slip surface. For a softer look, consider timber decking or synthetic wood-alternative boards around the pool's edge. Whatever materials you choose, be sure to allow adequate space for lounging, playing, and entertaining around your pool area.
What should you not plant around a pool?
Avoid planting trees, shrubs, or plants with invasive roots near the pool, as they can damage the pool over time. Also, steer clear of plants that drop excessive leaves, berries, or flowers into the pool, which can quickly become debris issues.
What is easy to maintain pool landscape material?
Opt for hardscaping materials like stone, tile, or pavers which require little upkeep aside from occasional sweeping or pressure washing. Drought-tolerant plants like succulents, cacti, and native grasses are also low-maintenance choices requiring minimal watering and pruning once established.
Is it better to mulch or rock around a pool?
Both mulch and rock offer benefits for pool landscaping. Organic mulch, like wood chips, retains moisture and adds nutrients but needs periodic renewal. Inorganic rock mulch lasts for years but provides no soil benefits. Larger rocks can create an attractive hardscape, while pebble mulch blends smoothly with plantings. Ultimately the choice depends on your aesthetic preferences, budget, and the existing landscape design around your pool area.