Are you a homeowner asking, what is landscape design? If so, you're certainly not alone! It's easy to get confused about the differences between landscape design, installation, maintenance, and other such services. However, knowing a bit more about these services allows you to choose the right ones for your property.
Above all, added information about these services can help you decide when to call in the pros! While you don't want to pay for unnecessary services, a fully trained contractor ensures high-quality design and maintenance. Also, contractors know how to stay safe when using heavy-duty landscaping tools and equipment. For this purpose, check out some added details about landscape design and other similar services.
What Is Landscape Design?
In simple terms, landscape design refers to creating a landscaping plan, pattern, or layout. This process takes into account soil conditions, existing or planned structures, natural features, and the like. Additionally, a landscape designer might include elements demanded by the property owner. For example, a homeowner might ask for tall hedges around a property, for added privacy.
The benefits of landscape design
With this in mind, you might wonder about the benefits of landscape design for your property. Before you plant some random shrubs and flowers outside your home or business, note some landscape design benefits:
A landscape designer understands local climates and soil conditions. In turn, he or she can ensure your landscaping stays healthy year after year.
Landscape designers know low-maintenance vegetation options versus those that need constant care. He or she can then choose the right option for your schedule and interest in landscape upkeep.
Professional landscape designers can offer solutions for different issues on your lot! For example, they might suggest aromatic vegetation to hide noxious odors, prickly shrubs to discourage trespassers, and so on.
Experienced designers anticipate various problems with landscaping that amateurs might overlook. For instance, they might avoid planting certain flowers around a pool or child's play area. Consequently, harmful bees and other insects might not bother your family as much throughout summer months.
Hiring a professional landscape designer ensures your outdoor space complements your home or other structure. This can include choosing flowers associated with certain architectural styles, or those whose size is in the right proportion.
Who needs landscape design?
Note when professional design service is vital and who might benefit from calling a landscape designer. You'll then better discern if this process is right for your property!
If you've tried your hand at landscaping your property but it never looks appealing, call a professional designer! He or she can offer various suggestions for improving landscaping layout and choices.
Never assume that lush, healthy landscaping requires lots of time and energy. If you've been spending too much time maintaining current greenery, call a design pro. He or she can suggest options needing less work and upkeep.
Landscape designers know how to keep soil healthy and even reduce utility costs. For instance, mature trees hold moisture in the soil and keep nearby structures cool. If your property's soil is somewhat barren or holds too much moisture, call a landscape designer!
What Is the Role of a Landscape Designer?
First, note that a landscape designer plans landscaping features and details, but doesn't necessarily maintain them. Second, a designer sees your property as an overall system, rather than just considering what plants might add curb appeal. Above all, he or she ensures your new landscaping works with structures, soil conditions, weather, and the like.
Consider some added details about all these facets of landscape designing. This information will also help you better understand when their services might benefit you and your property!
A landscape designer is different from a landscaping service. A designer plans your new landscaping but doesn't necessarily come back later to trim hedges, mow lawns, and so on.
On the other hand, a landscape designer will typically ask a property owner about long-term maintenance. For example, some property owners like tending to flowerbeds and gardens. In those cases, a designer might not rule out high-maintenance greenery for a property.
In viewing your property as a full system, a designer will take into account drainage, sun exposure, and other factors. He or she will then choose greenery that works well with those details.
Also, a designer might choose plants and greens that improve soil conditions. This might include plants that absorb excess moisture or which help prevent erosion.
Landscape designers ensure plants and greens work with existing or planned structures. For instance, they ensure shrubs don't block business signage or encroach on driveways and walkways.
What Is the Difference Between Landscape Design and Landscape Architecture?
In simple terms, a landscape architect works plantings around structures and obstructions. On the other hand, a landscape designer might work on vacant lots or plan for all areas of a property. Also, designers usually work on small, residential lots. Consider a few added details about these differences.
First, consider that a landscape architect specializes in working plantings around buildings, retaining walls, steep slopes, walkways, and so on. Second, landscape architecture is so complicated that it typically requires a degree! Landscape architects might plan landscaping for schools, large commercial lots, public parks, cemeteries, and other such locations.
Also, note that a landscape architect does more than just add curb appeal to a property. For instance, he or she might work to restore wetlands or deforested areas. They might also work with developers, helping to decide how to add new construction around existing greenery.
On the contrary, landscape designers are usually concerned with a property's overall appearance. However, note that landscape designers can still work greenery around various structures. For instance, a landscape designer can choose the right height of shrubs for placement around a residential home. It's important to keep the differences between landscape designer and landscape architect in mind.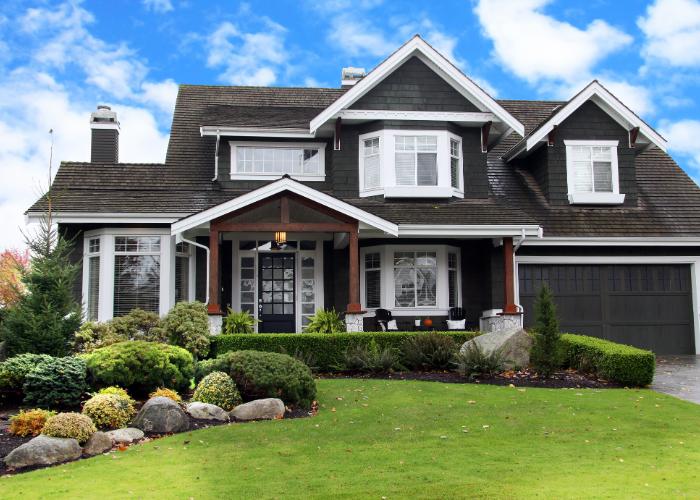 What Skills Do You Need to Be a Landscape Designer?
While landscape designers don't necessarily need a degree, that doesn't mean that just anyone can claim that title! Your first skill should be an ability to learn about greenery, soil, climate, and the like. For instance, a landscape designer should understand why some plants struggle in tropical or arid areas, versus milder climates. He or she also needs to learn about overall maintenance needs for various plants and flowers.
Additionally, landscape designers should also learn about architectural styles and complementary plantings. As an example, roses work well with cottage style homes but might seem out of place for a modern design! He or she should also be willing to learn about common problems homeowners experience with landscaping. This might include greenery requiring too much maintenance, flowers that attract pests, and so on.
Above all, a landscape designer should have a good eye for detail and lots of creativity. He or she will usually need to "start from scratch" when creating a property's design. In turn, a landscape designer should know how to create eye-catching plantings that work with a homeowner's needs and budget.
What Should I Expect From a Landscape Designer?
While every landscape designer offers different services for clients, note what you might expect when working with a landscaping professional:
First, a landscape designer should meet with you at your property and discuss your landscaping needs. For instance, they might ask if you just want some pops of color around the yard or need added privacy.
As with any contractor, a landscape designer should check your budget! Also, they should note how much time, energy, and money you can dedicate to long-term maintenance.
Next, he or she should inspect your yard and even take soil samples and pictures. This information can help them design landscaping that fits your property in particular.
Additionally, your landscape designer might even visit local nurseries with you! He or she might also suggest hardscape features, or manmade features that don't grow. These can include borders and edging, water features, benches, and the like.
Above all, your landscape designer should ensure that you're happy with their plans before anything gets planted. This will ensure you love the end result and that it works well with your property overall.
What Are the 6 Main Types of Landscape Features?
Knowing the 6 main types of landscape features can help you better understand your designer's recommendations! Most landscape contractors include the following when planning landscaping for your property:
Foundation plantings help landscaping blend in with, or transition into, a building. Also, foundation plantings help obscure unsightly foundations, meters, and other details. Most foundation plantings include bushes or thick flowering plants.
Flowering or landscaping trees, which are smaller than mature trees. Landscaping trees might include Japanese maple, apple trees, and the like. These smaller trees have less invasive roots, making them safer to plant near a structure.
Shrubs and hedges planted around a property offer privacy and help mark borders. Prickly shrubs also discourage trespassers while helping keep pets in the yard! These plantings also offer a touch of green without needing constant maintenance.
Your lawn is also part of your property's landscaping! A landscape designer will either plan for new grass or work your plans around the existing lawn.
Flowerbeds are a vital part of landscape design! These add color and aroma and host helpful insects, keeping your property healthy.
Hardscape features are the last part of a property's landscaping. These include anything manmade that doesn't grow, as said. Your driveway and walkways, borders, birdbaths, and other such details are called hardscaping.
The 5 Basic Landscaping Design Principles
Landscape designers don't just toss together some plantings and hope that they offer an attractive appearance. Instead, they usually follow 5 basic landscaping design principles. These include:
Balance, so that all parts of a landscape design feel coordinated and planned. In some cases, two areas might mirror one another. For instance, a landscaper might plant identical bushes on either side of a stairway. Balance in your landscape design ensures a more attractive appearance overall.
A focal point refers to where the eye should rest when looking at landscaping. Without a good focal point, landscaping features might blend in with one another. Your property's focal point might include a stunning tree, colorful flowers, or even a hardscape feature.
Simplicity is the next landscaping principle a professional will employ! While lots of lush landscaping creates an upscale look, you also don't want a property to look cluttered.
Rhythm refers to the overall repeating pattern of landscaping, and its layout. For instance, a landscaper might add space between bushes. In turn, there is a certain "rhythm" created when you look across those plantings.
Proportion, as the word implies, refers to choosing plants and other greens that complement each other's shape and size. As an example, your landscaper might choose taller hedges to plant in front of a six-foot privacy fence. In that space, small flowers might seem out of proportion!
Unity is vital for landscaping design. All your property's exterior surfaces, colors, and textures should work well together and help offset each other. For instance, purple tulips might clash with a red brick wall. On the other hand, white roses stand out against red brick, creating a unified look.
What Is the Rule of 3 In Landscaping?
Landscaping planted in groups of three is typically more pleasing to the eyes! In turn, the Rule of 3 refers to creating three lines of greenery or using three plantings in a group. For instance, a landscaper might plant a row of hedges against a fence. In front of that goes a row of field grasses, then a row of flowers in front of those grasses.
As another example, a landscaper might choose three different colorful bushes to plant along a walkway. By staggering the different species, each stands out and commands attention! On the other hand, by limiting their selection to just three varieties, your landscaping doesn't look cluttered either.
Denver Landscaping and Design is happy to help answer the question, what is landscape design? Hopefully you found this information helpful! If you're ready to spruce up your property, contact our Denver landscaping contractors. We offer full-scale design and maintenance services at affordable prices. For your FREE consultation and quote, call us today!