Are you wondering how to choose a landscape architect? A landscape architect designs areas for maximum environmental benefit and even to encourage human health. These professionals are an excellent choice for developing natural areas or for incorporating landscaping into new construction. They also help with land restoration projects.
To choose a qualified landscape architect, ask about their experience and training. Also, ensure you check their portfolio of past projects. Lastly, discuss your goals with them carefully so you know they understand what you're looking to accomplish with new landscaping.
There are many other details involved in choosing a landscape architect whom you can trust. Additionally, it's good to know the differences between landscape architects, designers, and similar professionals. This information ensures you make the right decision for your property!
With this in mind, keep reading to find out more about choosing landscapers for your needs. You can then discuss your property's needs with a landscaping company near you. Moreover, you're sure to be happy with the services they offer.
Vital Tips on How to Choose a Landscape Architect
Consider some added tips on how to choose a landscape architect for your property's needs. Also, remember that landscapers sometimes plan their projects weeks if not months ahead of time. Consequently, you don't want to delay hiring someone once you find the best professional for your needs.
First, outline what services you need from a landscaper and what you want to accomplish. For example, are you just looking for a more aesthetically pleasing property? On the other hand, are you looking to plan a property that includes jogging trails and room for wildlife?
Second, ask about a landscape architect's schooling and credentials. The more schooling they have, the more capable they are of creating a space you love. This includes degrees in anything related to environmental sciences.
Never hesitate to ask about their portfolio of before and after pictures. Their portfolio can tell you quite a bit about their capabilities.
Also, note how long they've been in business. Landscape engineering isn't something you can learn in a book! In turn, the more hands-on experience under their belt, the more likely it is that they're the right choice.
Additionally, don't hesitate to work with someone who has some constructive criticism about your goals. An experienced landscape architect will typically know more about soil conditions, weather, and other factors affecting a plot of land. Consequently, they might foresee problems you've overlooked or otherwise have valid input to share.
Lastly, remember that price is important but choosing the cheapest professional isn't always best. Some inexperienced contractors might undercharge because they know they can't offer the best services. They might also cut corners so that you don't end up with the results you envision!
The Difference Between a Landscape Architect and a Landscape Designer
Property owners often fail to realize the differences between landscape professionals. However, it's vital to understand the skills of each so you choose the right one for your project!
Landscape Designers
Simply put, you'll want to choose a landscape designer when you're concerned with a property's appearance. The designer might suggest various plants and greens that thrive in your area, and which need minimal maintenance.
Also, a designer might create a plan for enhancing privacy or security with landscaping features. This plan might include tall hedges around a property's perimeter or thorny shrubs underneath a structure's windows. In most cases, a landscape designer works on smaller residential or commercial properties.
Landscape Architects
However, a landscape architect does much more than just create a stunning property. Landscape architects are concerned with how a property affects the environment overall. Additionally, they consider the wellbeing of wildlife and people who might use that property.
For instance, you might choose a landscape architect when planning a public park. The architect will consider the best route for jogging trails, ensuring excellent shade for runners. He or she will also suggest the best plants to keep, to protect birds and animals in the area.
Moreover, you might hire a landscape architect when planning new construction. A landscape architect might suggest how to change the lay of the land so as to accommodate your plans. They can help you ensure proper drainage, that tree roots don't encroach on foundations, and the like.
Lastly, consider a landscape architect for properties with lots of foot traffic such as college campuses or retail outlets. The architect can help design a space that's easy to access and that works around buildings and other outdoor structures. At the same time, they can help ensure an environmentally friendly space that's comfortable for occupants.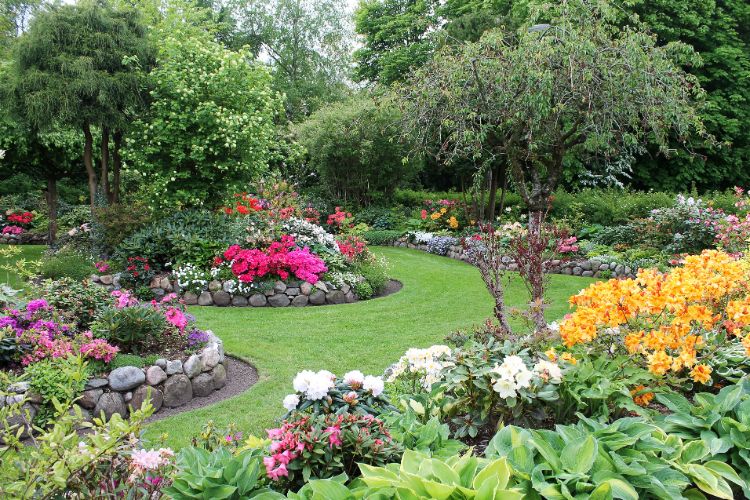 What Skills Does a Landscape Architect Need?
A landscape architect needs talent in creating a stunning space, as you would expect. However, since their work involves more than planting flowers, they need more skills than just planning landscaping features.
First, a landscape architect must understand the basics of environmental sciences. This includes soil conditions, ecology, and other factors to consider when designing a space. They should also have an understanding of factors that affect the land locally, such as average temperatures and sun exposure.
Also, he or she must be very creative! A landscape architect needs to envision how buildings must work around natural features, for example. In some cases, they might need to create a new space on an empty lot. These tasks require creativity and imagination.
On the other hand, a landscape architect also needs to work well with computer programs, blueprints, and other technical information. They typically need to use CAD or computer aided design programs to create their plans. In turn, they need to do more than just plan where you might plant flowers and trees along your space!
Should I Hire a Landscape Architect?
Consider when you might hire a landscape architect to assist with your plans. Also, this information can help you decide if you need an architect or just a landscape designer.
Landscape architects can create environmentally friendly properties. In turn, call an architect if you want to ensure outdoor air quality, avoid soil erosion, and the like.
A landscape architect concerns themselves with how properties affect the people using it! For instance, they might suggest where to add walkways to ensure easy access around natural features. Also, an architect can suggest what trees to add to a property, for needed shade.
If you're looking to restore a property damaged by human use, weather conditions, and the like, call a landscape architect. They can suggest changes to the soil and what plantings to add to restore a property to a healthy condition.
In the same way, a landscape architect can suggest what features to add to a cleared lot. This can include reintroducing various tree species, sod, and other details.
Landscape architects know how to work outdoor features around homes, businesses, and other structures. Consequently, you might rely on their services if you need to add landscaping to a property with lots of buildings! They can suggest how to work features around those structures while still creating a stunning appearance.
Architects are an excellent investment if your property has lots of landscaping challenges. For instance, a landscape architect can suggest what plantings to add to hilly spaces or heavily wooded areas.
Above all, always call a landscape architect if you need new landscaping to accomplish something other than enhance curb appeal. This can include adding shade to the space, creating a property that's hospitable to wildlife, and so on.

How Much Should a Landscape Architect Cost?
There is no easy way to determine how much you might pay a landscape architect in your area. However, many such professionals charge by the project. In turn, the more complicated the work, the higher the cost!
An architect might also charge according to a property's size, so larger lots mean higher planning costs. For smaller projects or special consultations, a landscape architect might charge by the hour. Expect to pay anywhere from $70 to $150 per hour for their services.
However, the only way to get an accurate price for your project is to call a landscape architect for an estimate. They can review your needs and what's involved and prepare a quote. Also, some might work with you to adjust that cost if you adjust your expectations.
In the meantime, consider some average landscape architect prices you might pay:
Planning and installing a drainage system; $2500 to $6500.
Installing flowerbeds; $600 to over $3000
Tree planting; $800 and up per tree
Retaining wall planning and installation; $3500 and up
Landscape lighting; $2000 to $9000
Pond installation; $3000 to $6000 and up
Fire pit installation; $2500
Patio planning and installation; $2600 and up
Questions to Ask a Landscape Designer
If you need a landscape designer versus an architect, it helps to consider some questions you might cover with them. The right questions ensure you end up with a property you love!
First, remember that a landscape designer doesn't need a degree. In turn, you might not need to know about their education levels. Instead, ask about their experience, including how long they've been in the business.
Also, always ask to see their portfolio. You can learn a lot about someone's ability to design landscaping by projects they've already tackled!
Ask if the designer can recommend landscaping according to specific needs on the property. For instance, you might prefer low-maintenance greens even if they're not as stunning as certain high-maintenance flowers. A reliable landscape designer won't recommend the same features for every project but should tailor their work to each client.
When choosing landscaping features, always ask the designer about maintenance and how long certain greens might last. Property owners are often surprised to find that some greens and flowers don't last forever! A reputable designer should tell you when greens and flowers need replacing.
Check if a landscape designer will explain how to maintain your chosen features. They might offer this added service. In any case, they should tell you how to keep your fresh landscaping looking its best year-round!
As with any contractor, always ensure you know if they charge by the hour or the project. Also, do they have a guarantee for quality?
While a landscape designer doesn't need specific education, they should be licensed and insured. A business license is added reassurance that they'll show up and finish the job as promised. Liability insurance reimburses you for repair costs in the rare event that they damage your property.
Where Do You Find a Good Landscape Architect?
If you've decided that you need a good landscape architect, you might check online for local companies. When you do, be sure to read their reviews on Google, Houzz, and other such contractor review sites. This will give you an idea of how past clients liked their work!
Also, don't hesitate to ask friends, family, and coworkers for recommendations when you need a landscaper. In some cases, you might even ask commercial property owners or managers the name of their landscaper!
For instance, if you drive by an apartment complex and notice their stunning landscaping, consider stopping by. The complex's owner or manager might be happy to share the name of their landscaping company.
Additionally, remember that builders and developers often work with landscape architects. Consequently, you might do some cold calling of those professionals in your area. Obviously, you don't want to take too much of their time asking questions. However, they might be happy to oblige a simple inquiry and share the name of any landscape architect they know.
Denver Landscaping and Design is happy to help explain how to choose a landscape architect. Hopefully, you found this information practical. If so, be sure to visit our blog for more information on how to choose a good landscaper. Also, if you're in the area, call our Denver landscaping contractors today. We offer FREE landscape design and installation quotes for residential and commercial properties. Additionally, we tailor our services to fit your needs and budget. To find out more or to get your property started with a no-cost price estimate, call today.