Professional landscape design enhances the overall appearance of your property while also ensuring the health of soil, grass, and landscaping features. Unfortunately many homeowners and commercial property owners fail to realize the importance of landscape design, architecture, and maintenance, and end up with a property containing unhealthy soil and that lacks curb appeal or that even looks downright shabby!
Landscape design combines elements of outdoor architecture and garden design, to include various landscaping and hardscape elements for an attractive, healthy property. Landscape design also often includes aspects of local culture while considering local foliage and growing conditions.
Planting a few flowers and shrubs is not sufficient for creating a stunning appearance outside your home or office, and failing to choose plants that grow and thrive in local soil and weather conditions often results in wilted flowers struggling to grow. Landscape design as well as long-term maintenance ensures your property looks its best while protecting its overall condition as well.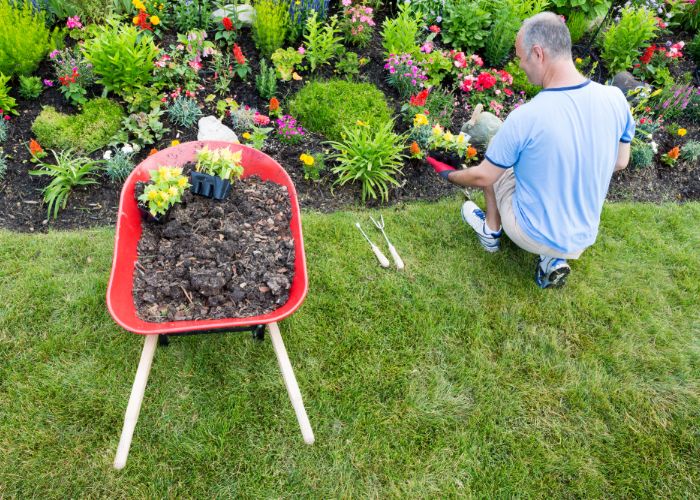 If you've never worked with professional landscapers in your area or aren't sure the difference between landscape design, architecture, and installation, note some vital information about these services. Discuss your options with a landscaping company near you so you know you end up with a beautiful property you'll love for years to come!
What Is Landscape Design, Architecture, and Installation?
Healthy, lush, attractive landscaping doesn't happen by accident and it involves far more work and planning than just planting a few nice flowers and shrubs outside a structure! However, to ensure you know what your property needs to look its best and that you can discuss your options with a landscaping contractor more easily, note some added details about landscape design, architecture, installation, hardscaping, landscape maintenance, and other such services.
Landscape architecture includes structures on a property rather than just plantings; for instance, a landscape architect might install a gazebo or fence along with foliage, to create a cohesive look between those pieces.
Landscape architecture often uses structures for both functional and not just purposes; a gazebo might provide outdoor seating and protection from sunlight while storm water drains ensure healthy soil conditions and protect against flooding and soil runoff.
Hardscape features are those that don't grow such as borders and edging, decorative fencing, retainer walls, and the like. Hardscape features can be decorative or functional, or both; borders, for example, provide color and contrast while also keeping flowerbeds hydrated.
Landscape design often incorporates elements of landscape architecture and hardscaping. A landscape designer might note if a property owner wants particular structures on their property or if certain decorative hardscape features are needed to ensure landscaping stands out.
Landscapers also work with the appearance of existing structures on your property; for instance, red brick buildings might need white, yellow, or other such flower colors to help offset that red. Planting red roses outside a red building only means those flowers will simply blend into the background and disappear!
The size and shape of structures on a property are also important; very long buildings might need rounded landscaping features or flowerbeds rather than boxy shrubs, to create depth and dimension.
Landscape designers also note overall soil composition, grade or slope, drainage, sunlight exposure, and other such factors. As every plant and flower needs different growing conditions, these factors help determine the best choices for plantings on a property.
The term "landscapers" is often used to describe a variety of services but not all these services include landscape design or architecture! A landscaper might simply plant or install some flowers outside a home or business or perform general lawn care and maintenance, such as mowing and edging. Never assume a landscaper offers design services along with planting and lawn care, if your property needs added planning and prep work.
If you know the best flowers and plants for your property but need help with planting items, choose a landscape installer. A landscape installer assists with planting, including tilling soil and excavation work, spreading mulch, and other such tasks.
Why Your Property Needs Landscape Design
Professional landscape design is an investment in your property's appearance and condition! As said, landscape architects and designers start a project by testing soil conditions, noting its moisture levels as well as any drainage or other such issues. They make note of areas with maximum sun exposure and just how much sunlight a property gets throughout the day, as well as many other factors affecting growing conditions.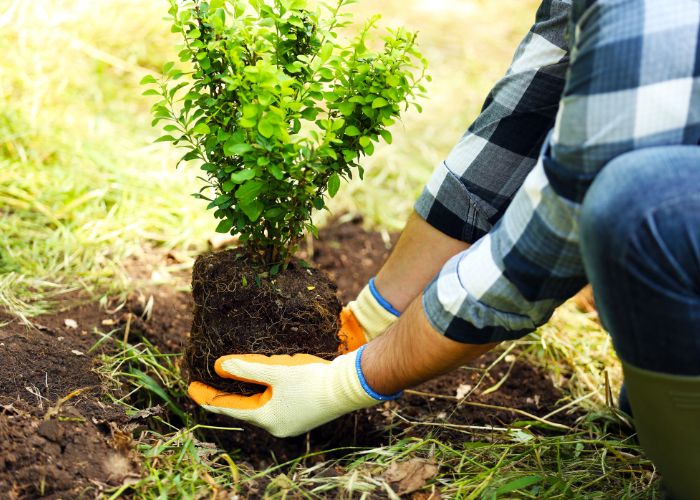 Choosing plants and flowers appropriate for your property's growing conditions ensures those plantings stay healthy while also reducing maintenance work needed and potentially lowering long-term landscaping costs! As an example, soil on your property might be overly dry and arid. You might choose to plant flowers whose appearance you love but which need lots of extra watering, to compensate for that dry soil. In turn, you'll face added costs for sprinkler system maintenance, the water itself, and so on.
On the other hand, choosing flowers, shrubs, and other plantings that thrive in your property's soil conditions means far less maintenance over time. Choosing native plantings also means less risk of wilted flowers or greenery struggling to grow. You'll then need to replace those landscaping features less often as well, also saving you money in the long run!
Landscaping design also ensures your finished landscaping features work well with your property, creating a cohesive, attractive look. Professional landscapers also avoid simple mistakes that detract from your landscaping and property itself; for instance, a landscape designer ensures flowers and shrubs aren't so large that they overwhelm or obstruct porches or block business signage. He or she also ensures greenery is not so undersized that it adds little aesthetic appeal to your property!
A landscape planner or designer might also offer suggestions for enhancing your property's appearance, function, or comfort. As an example, rather than small, thin plantings along a property's border, he or she might suggest thick hedges or flowering shrubs, for added privacy and noise insulation. A landscape designer might also suggest prickly shrubs where you need enhanced security on your property, or suggest you avoid overly aromatic flowers and shrubs around outdoor cooking areas, so those smells don't become overwhelming while you're trying to eat!
How to Improve Your Property's Landscape Design
Hiring a professional landscape contractor near you is probably the best way to improve your property's overall appearance! However, you might note some added tips for enhancing a property's landscaping so you know what to discuss with your landscape contractor, and know some areas where your yard or commercial property needs special attention. You can then also better understand a landscape company's suggestion for improving the look and appeal of your property as well.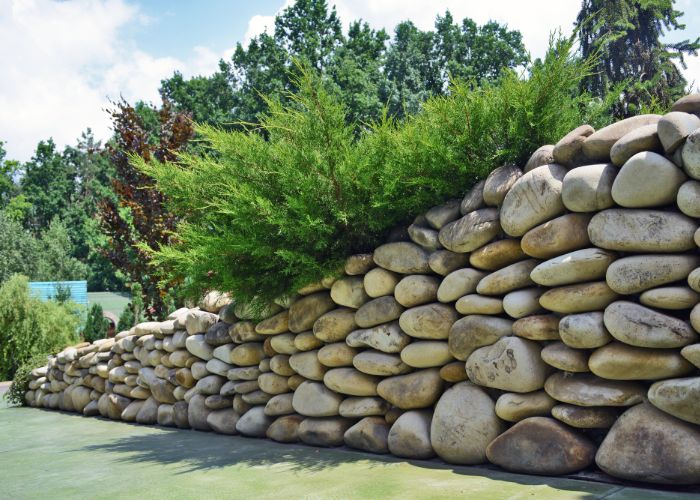 Landscaping shapes are vitally essential for enhancing your property. Your landscape contractor might suggest rounded bushes versus rectangular shrubs against a long exterior wall, for instance, to break up that harsh, boxy look.
Proportion is also a vital element in landscape design and installation. Overly large landscaping beds might overwhelm a small home and seem overgrown, while larger yet perfectly proportioned planting and groupings add weight and substance to a structure or complement a larger house or commercial building.
Single plantings might seem drab and dull, which is why landscapers often use the "rule of 3" when designing landscaping features. The rule of 3 refers to three plantings, each a bit smaller than the one behind it. Installing a full, grassy shrub behind some tall flowers and then adding a border in front allows each of those features to command attention and get noticed!
As with mixing décor styles inside your home, be cautious about mixing too many flower and plant varieties outside. Sunflowers offer a rustic, country look while roses create a country cottage feel; mixing these flowers, as an example, might create a confused look. Stick with planting varieties that coordinate with each other and your home's overall style.
Color and contrast ensure a finished, attractive look on your property. If you don't look forward to maintaining flowers or know that delicate blooms might struggle on your property, add pops of color with flowering bushes such as roses or lilacs. Ensure you add something between plantings of the same color; even garden edging between green shrubs and a property's lawn allows that landscaping to stand out!
If your landscape features are beautiful on their own but seem to be missing something, note the number and variety of hardscape features. Patio pavers, decorative borders, and raised flowers beds created with stacked stone add texture while breaking up the look of flowers and plants.
Ensure landscaping features don't compete with other parts of your property or get in their way; rounded grasses might fall in the way of a sidewalk, for instance, blocking lighting and foot traffic. Shrubs provide an added barrier around a commercial property but can also block the view of law enforcement during patrols! Choose landscaping features and sizes that work with other elements of your property rather than interfering with them.
Remember that high-quality landscape design enhances a property, allowing plantings and flowers to stand out while improving the look of a structure's exterior. To ensure your landscaping installation choices stand out and look their best, rely on a skilled, professional landscape designer near you!